AT HOME WITH // Dark Horse Organics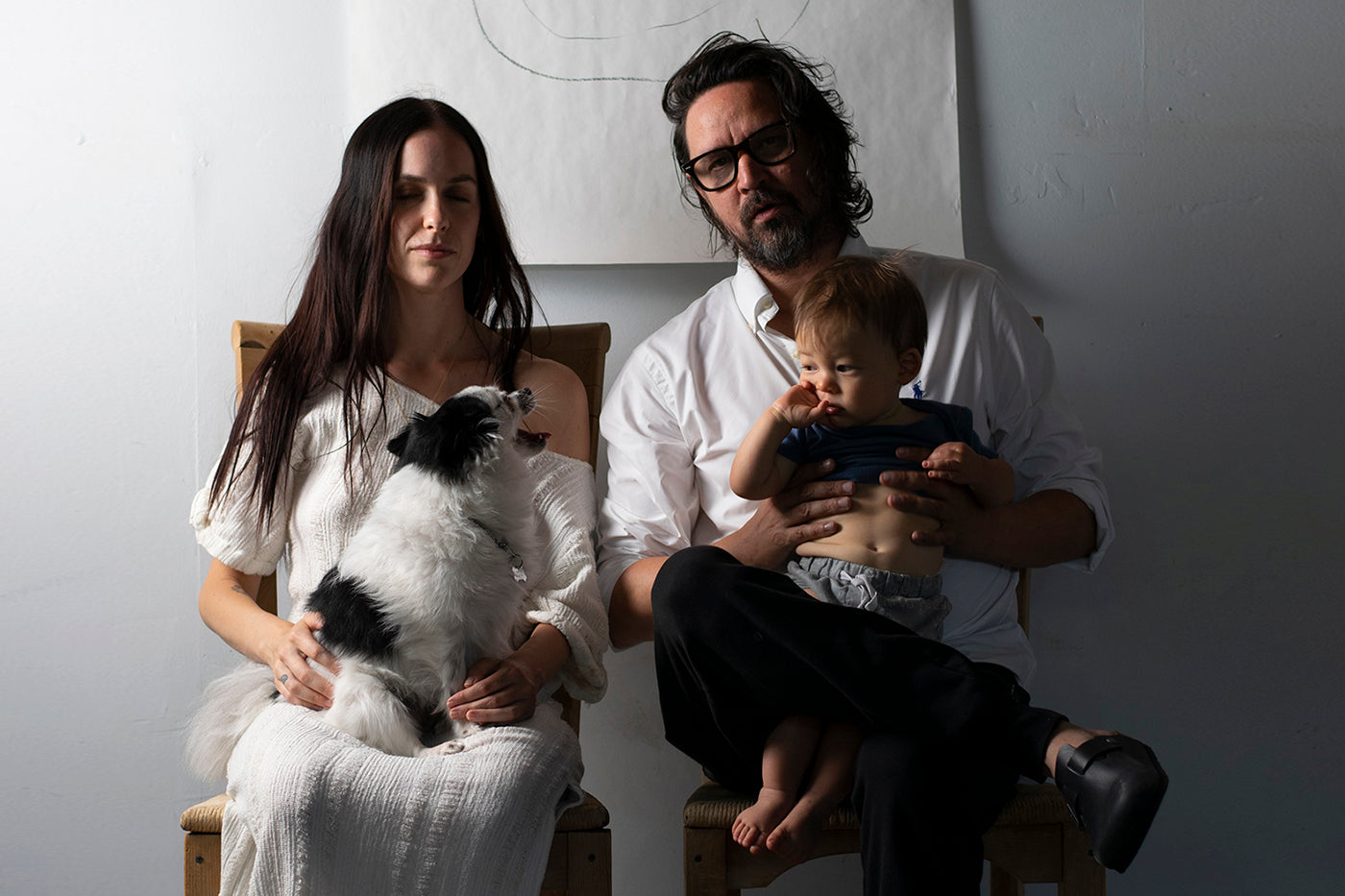 Greg Arnold of Dark Horse Organics was one of the first chefs I met when I moved to Los Angeles ten years ago, and I've been fortunate to experience his food many times since. In a world full of culinary copycats, Greg's food stands out as both unique and delicious.
With Dark Horse Organics, he's used his culinary talents to craft pantry staples and condiments with the same appeal. And like many great partnerships, he and his partner Lindsay work together on the brand and have been growing it along with their family, for the last several years.
I'm always inspired by how couples work together to create thriving businesses- presumably with some "balance" that works for both of them. The art of recognizing each other's strengths and amplifying what works is an art form!
I love what Greg and Lindsay are doing, and the creativity that is embodied in everything they do. If you haven't tried Dark Horse's clean condiments and culinary staples you must. They make everything taste better!
Here's what Greg and Lindsay have to say about living life and running a small business together.
Thank you both!
1- Your 3-word bio:
Lindsay- Devoted, adaptive, facilitator
Greg- Full-time explorer
2- Tell us briefly about your journey in founding Dark Horse?
Greg- Well after about 12 years of being a chef in the kitchen I really needed to explore a new creative mission. As Anthony Bourdain always talked about, if you're working in a kitchen, you always need to be planning your escape route, and Dark Horse was mine.
3- Like us, you've established the brand along with your relationship and family. How does working together work for you all? And do your working styles differ?
Lindsay- We have always worked well as a team. We are complimentary and have roles that don't overlap so it's always been supportive as a whole.
Greg- For us everything works really great like 99% of the time. Lindsay is really great at talking to people and building relationships whereas I am best left to create new things, cook, and work on graphic design and content. I'm not exactly the person you want talking to the customers, haha!
4- What would be your advice to people in a working and romantic partnership?
Lindsay- Have quality time together every day in which you don't discuss work. Be nice to each other.
Greg- I think like any other team, it's really important to have well defined roles and to stick to them. Play off of each other's strengths and cover for each other's weaknesses, you just have to have a really honest look in the mirror to see what those are.
5- Creativity is of course involved in starting any brand, and I feel like you all have such a unique perspective when it comes to brand building. Can you tell me a little bit about the story behind the brand?
Greg- I mean, I am a classic art school dropout! I also think that food and wellness brands are very much a copycat affair. The aesthetic will all look the same and then change and look the same in a different way. I really try to ignore all of that, like I don't look at social media or what other brands are doing, I just stick to what I really want to create and ignore the ebbs and flows of trends. I also spent most of my life skateboarding and making records, so I think my aesthetic is really rooted more in board graphics and 70's avant-garde album covers way more than whatever is going on today.
6- I'm always curious how motherhood affects creativity. There is a lot of multitasking, and "the zone" can be easily disrupted. You're new to parenting, so I'm curious how you're dealing with the work/flow balance?
Lindsay- We have very different energies which allows for us to step into situations for each other when needed. We know what each other is good at and we allow it to shine instead of stepping over each other.
7- How do you feel like becoming a parent has affected your creative process?
Greg- This may seem cliche, but my painting and cooking have become much more childlike. When I see life through River's perspective it softens the edges of things and allows me to be less bourgeois and technical and tap into something deeper, something that reminds me of comfort and the concept of home.
8- What are some of the rituals and routines that enable you to work at your highest level of creativity?
Lindsay- Every morning I wake up two hours before River, so I have plenty of time to drink tea, stretch/workout, do a little skin ritual and shower. This clears my mind and body before serving any other purposes.
Greg- I think my whole life is a ritual. The form really sets me free. Like, I am never thinking about plans or what I need to do when I stick to my form and the discipline of that allows my mind to free itself from the sea of possibilities and go directly to the deeper source. Like this form of living meditation is not something done on an app for 20 minutes in the morning. It's a way to move through every minute of every day.
9- What is your philosophy when it comes to skincare and/or 'self-care'?
Lindsay- Intuitive driven skincare and self-care. Always checking in with what's needed for that day and allowing it to come and go.
Greg- This is an endlessly unpopular view in our circles, but I wash my face and body with only clean water, and sometimes Epsom salts. My self-care routine sometimes takes the entire day! haha
10 - Your top 3 life essentials. (Products, rituals, music, foods - anything:-)
Lindsay- Matcha, face/body oil, laughter with family
Greg- Black jazz from the early 60's. Flaked sea salt from off the coast of England. Fresh lemons.
11- What are you excited about for 2022? Tell us anything!
Lindsay- So many things we are working on that will soon be revealed.
Greg- I am currently working on a massive project with a group of really amazing and talented friends that everyone will hear about super super soon!!!
More in The Interviews