AT HOME WITH // Ashley Lennon of Museum of Peace and Quiet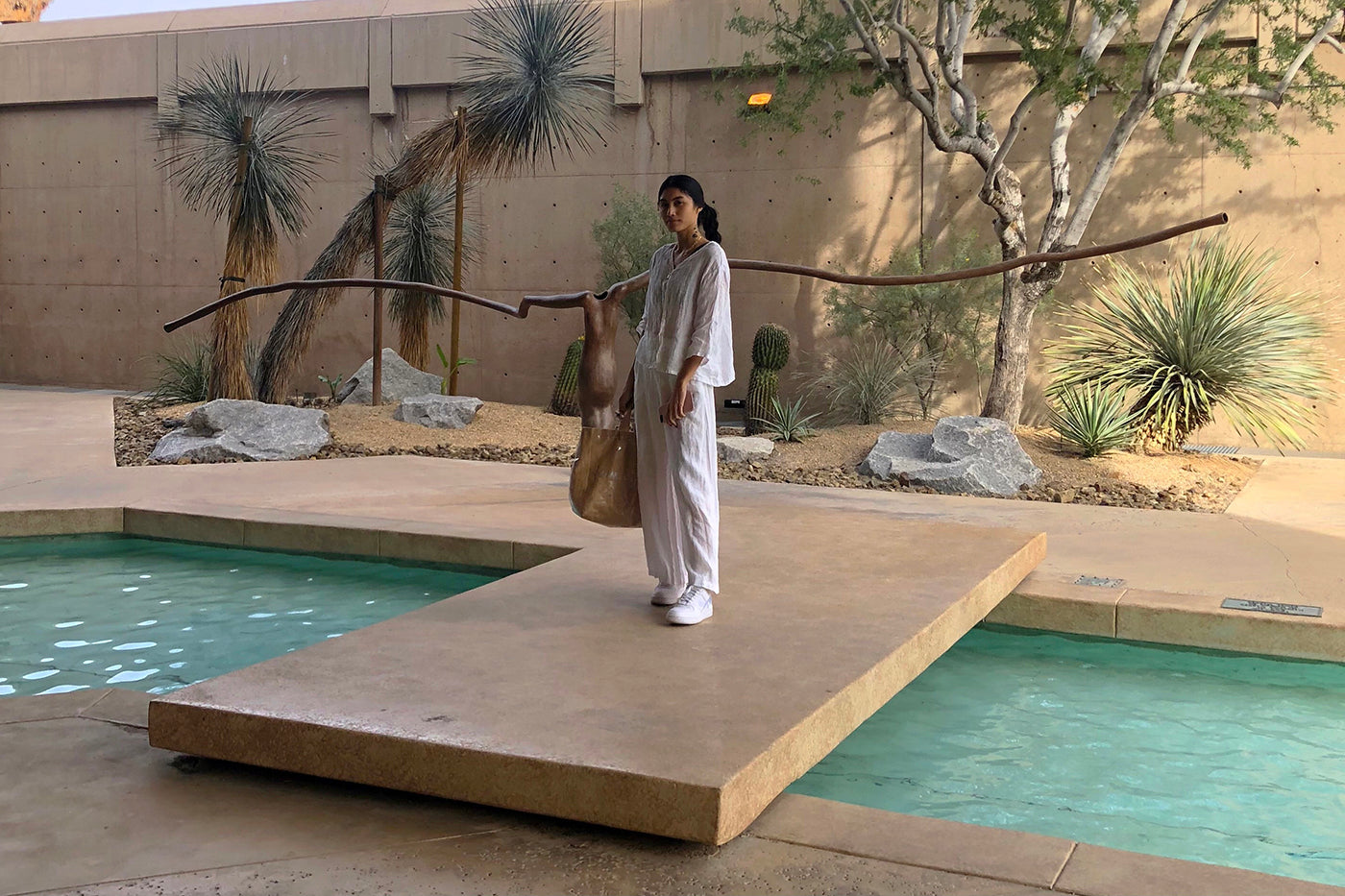 I was introduced to Ashley by a dear friend of mine whose taste in people I trust immensely. Although, I don't know her personally, I am very familiar with her brand Museum of Peace and Quiet - and have been inspired by her aesthetic and philosophy for a while now. Creating a company that has a clear intention and offers a gentle reminder to slow down feels fitting for the month of January, and much in line with our own. 
She works alongside her husband, in a creative partnership which is something we do here at Nucifera. While at times challenging - it is immensely rewarding to build a united vision. 
Her answers were the reminders we needed to start slow this month, set boundaries where needed, and thrive in our creativity without chasing productivity. 
For anyone thinking of starting their own business, I found this interview to be especially valuable. 
Thank you Ashley for your thoughtful contributions!
1 - Your 3 word bio:
In Real Life

2 - Tell us a little about your brand Museum of Peace and Quiet. When did you found it, and why?
Museum of Peace & Quiet was mainly inspired by our road trip in 2018 after spending some time in Marfa TX, Santa Fe NM, and Sedona AZ. We had a lot of ideas come out from our travels, it was our way of preserving those moments into something tangible and we sort of just wanted to pay homage to all the places we love and emphasize the importance of thoughtful living.

3 - We live in a time when being a creative and an entrepreneur is highly glamorized. Obviously being able to start your own business has never been easier, but it isn't the lottery ticket everyone seems to think it is. What are some of the pros and cons as you see it? And what have you learned along the way?
I wish people talked more about this. This is truly demanding work-- and it's totally worth it. But it's not glamorous. It takes years to be an overnight success. I've learned that stress is always there, to a greater or lesser extent. You get better at managing it, but it can always get the better of you temporarily. A lot of the stress is simply constant pressure to get things done. I put pressure on myself to be 100% productive all the time, but reality is you can't be.
Having a positive mind set is a huge part of surviving as an entrepreneur. You can be cautious but fear of failure can be crippling!

4 - I feel like you've done more than just created a brand, you've created a cult following. Every time I've gone to purchase you've been sold out! Of course this supply/demand makes me want it more? ;-) Is this intentional?
We never anticipated to be categorized in this 'sell-out culture', there's no formula that we adhere to. When we started putting products out people really resonated with it and it's been an organic and slow growth. When we launched our first range of items, we started with a small capsule as we are very intentional about not over-producing and to keep the inventory moving. At the end of the day, we are still a self-funded small business so it's economical for us to scale slowly while trying to keep up with demand.

5 - You also work with your husband. (I do too.) How is working on a business and a marriage been? And how do you create separation?
It's extremely easy to let work life bleed into home life but doing something we both love and to have a trusted business partner, things have luckily been smooth sailing. I think this has ultimately strengthened our relationship. We've always wanted to work together and have had similar goals in terms of careers, even if our backgrounds are different. We both have different, but complementary skills, which helps immensely.

6 - What are some of the rituals and routines that enable you to work at your highest level of creativity?
Waking up early and NOT reaching for my phone first thing in the morning and instead starting the day with an AM walk and stretch before any phone activity. I also set a time limit on my personal social media accounts. Last but not least, I take Sundays off : ) I consider Sundays my mental health days off and strategically geared toward stress relief and has been an extremely important boundary. Taking this time has improved my productivity and focus.

7 - What is your philosophy when it comes to skincare and/or 'self-care'?
My philosophy is simple. First and foremost, manage the stress. Stress can contribute to all kinds of ailments and skin problems that wreak havoc on our skin and body. It's all about establishing a good routine/regimen.

8 - Your top beauty essentials (products, rituals, and foods :-)
Silk pillowcases, contrast bath therapy (hot soaks & cold showers), alkaline foods, and chlorophyll water.

9 - What did you learn from 2020 as both a business and a person?
Whether we like it or not, the world has required a hard reset. 2020 has taught me the importance of community care and collective healing. Individuals everywhere are harnessing their collective power to push for change. It has also given me the opportunity to slow down and to reevaluate my priorities. These seemingly simple pleasures have revealed a new dynamic of sorts.

10 - What are you excited about for 2021? Tell us anything!
I'm excited to grow and nurture Peace & Quiet. Also very excited about all of the upcoming collaborations we have releasing this year! Some have been a while in the making and to finally see it come to life is my favorite feeling.
More in The Interviews