WINTER CAVIAR // Beluga lentils with cashew crème fraîche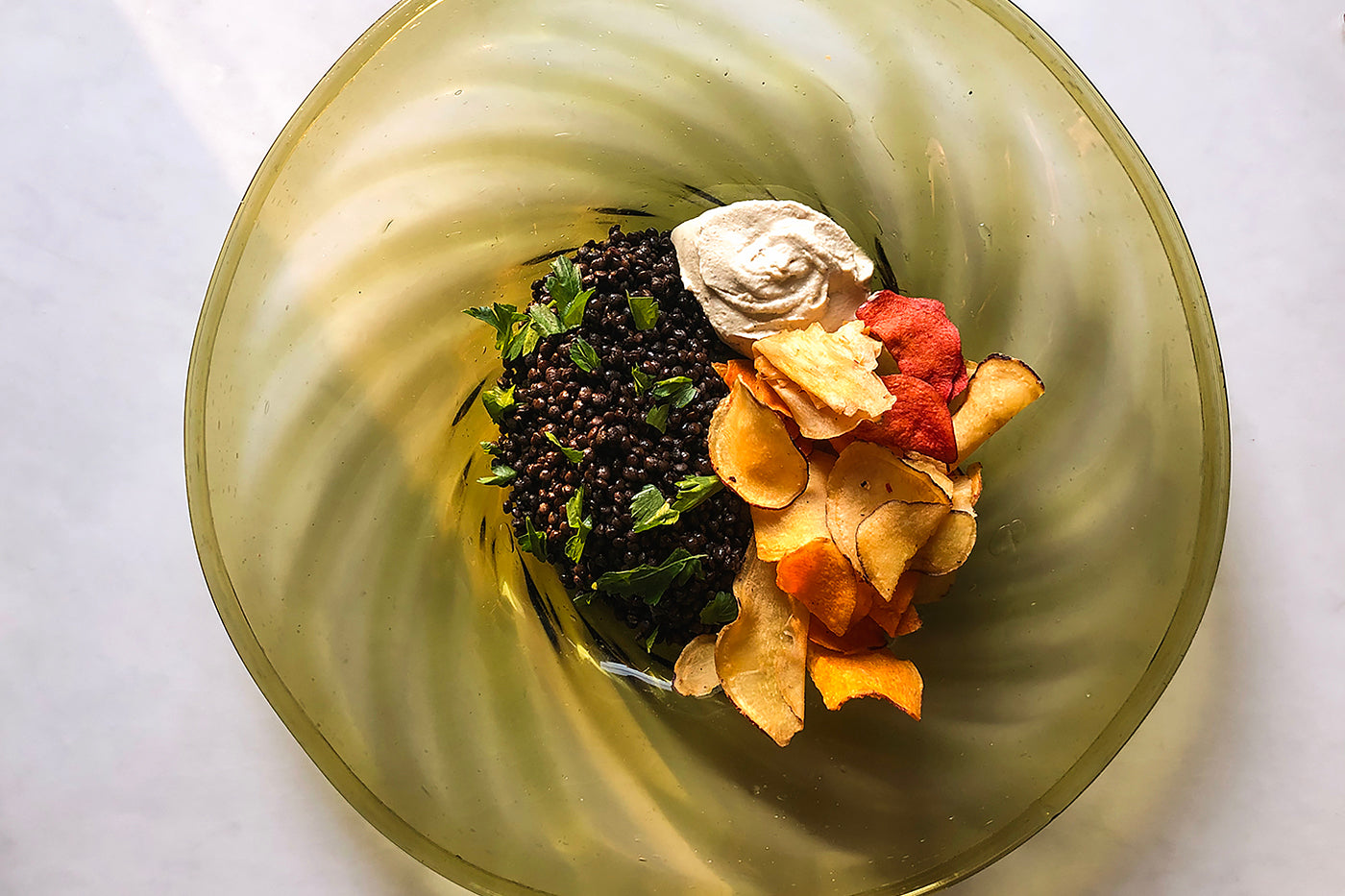 There is this idea that somehow eating healthy has to be reductive and less joyous. It doesn't at all! Eating healthy is an ode to the simple pleasures in life that make us feel vibrant and good.
There are many foods that can make us feel good, but there is one food in particular that we think also looks and tastes good - and yet it is only a humble seed.
Introducing the beluga lentil. You can dress it up or dress it down. It's the perfect combination of health and decadence.
So easy to make, this recipe is a staple that can be thrown into salads, served on tortillas, added to pasta - the list goes on. It also makes for great appetizers and pairs well with your favorite libations.
For this recipe, we're making it a little fancy served like caviar, but you don't have to. The cashew creme fraîche is really just the most basic cashew cheese sauce that we make weekly.
Consider these recipes new staples that have endless opportunity for variety.
Simplicity. The ultimate luxury.
Beluga Lentil Caviar
1 cup beluga lentils, rinsed
2 1/2 cups water
1/2 teaspoon sea salt
2-3 inch piece of kelp (optional) for light sea flavor and minerals
2-3 tbsp olive oil for finishing
Bring lentils and 2 1/2 cups water to a boil. Add kelp, and simmer for 15-20 minutes until the lentils are al dente. If you aren't using the kelp, that is fine although it does add a slight hint of the sea and minerals. The beauty about beluga lentils is that they don't get mushy, and really hold their shape. Its virtually impossible to overcook them, but don't go crazy. They only need about 20 minutes in simmering water to be fully cooked. Once cooked toss with a generous amount of olive oil for finishing.
Cashew Crème Fraîche
1 cup raw cashews
2 tablespoons lemon juice
1 tablespoon white miso (optional) If not using miso, add extra salt .
Approximately 1/2 cup of water to process
Pinch of sea salt.
Blend all ingredients until smooth.
Makes approximately 1 1/2 cups.
More in The Food