PLANT-BASED BRUNCH // Vegan frittata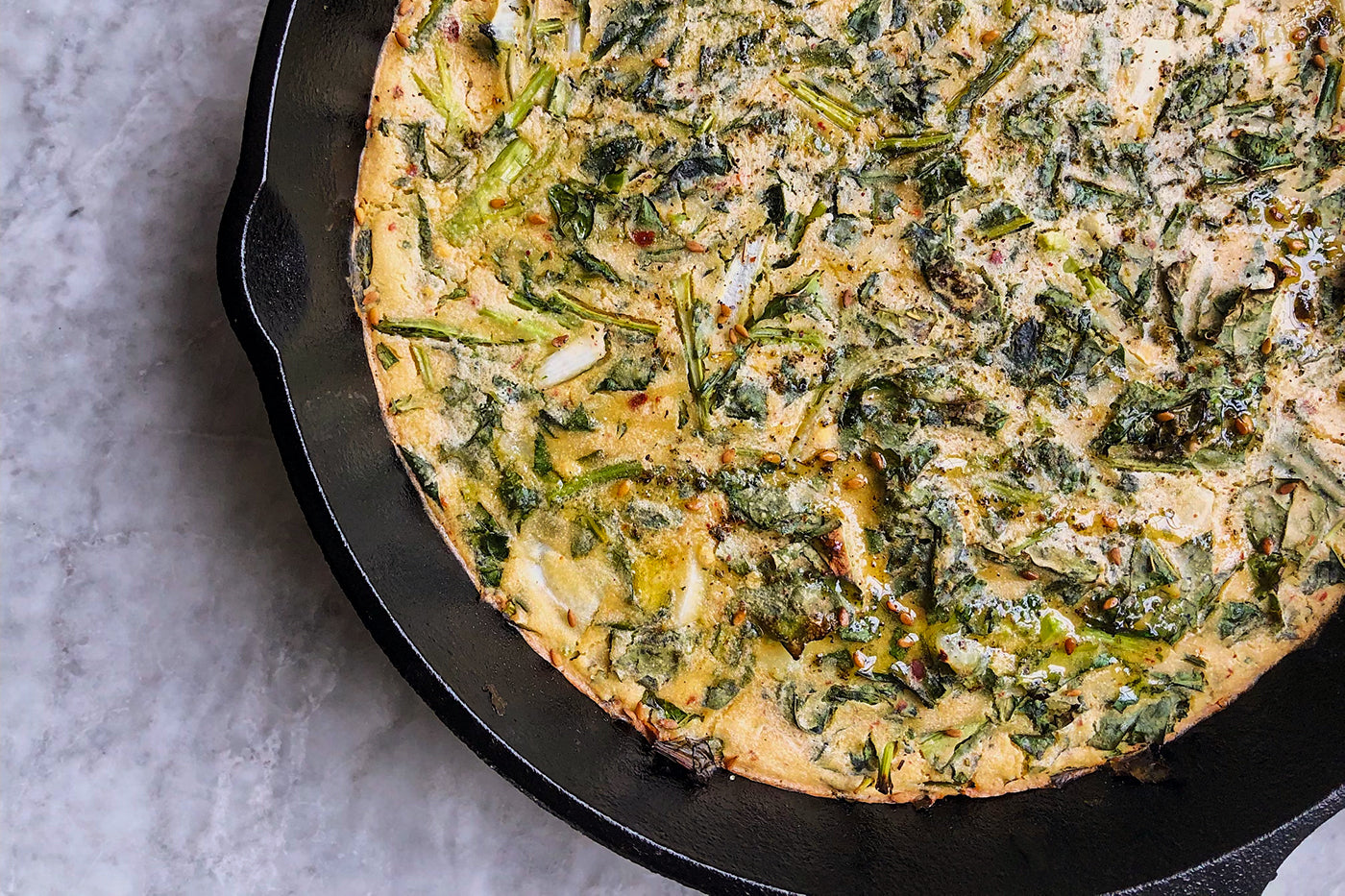 'Tis the season for brunches, or at least it feels like it. Lighter and longer days leave room for a little more leisure.
But what do you serve for a plant-based brunch?
There is no harder meal to achieve savory vegan success than brunch. Eggs, omelets, smoked salmon, bagels with cream cheese. All these foods are ingrained in our psyche as being the consummate brunch meal. If you're a pancake person that's great, but I'm not. I personally prefer something savory.
So how do you make a good savory vegan brunch, that goes beyond the basic avocado toast?
While scrambled tofu is nice alternative, I find that tofu still has its stigma and people aren't as receptive.
Enter garbanzo bean flour. Truly natures greatest alchemy when it comes to doing a faux egg without using any processed ingredients. (I'm still skeptical about most of the egg alternatives out there because I'd rather go as light as possible on the processed foods to start my day).
Garbanzo bean flour (aka chickpea, besan, or gram flour) is surprisingly simple to work with, and it yields the most delicious and satisfying results. It's also high in protein, which is a perk and makes it really satisfying.
Chickpea flour frittata is an absolute game changer of a dish that can honestly be eaten any time of day and stores well in the fridge. Like a classic frittata, it can be packed with whatever vegetables you'd like and it has a satisfying density that feels substantial without being too heavy.
I've made this dish time and time again. This time, I'm using spinach for seasonality and garnished liberally with herbs.
SPINACH + CHICKPEA FRITTATA //
1 large bunch of spinach, chopped - approximately 2 cups (if you can get fresh Bloomsdale spinach, that is best)
1/2 onion thinly sliced
2 tbsp olive oil
1 teaspoon chili 🌶 powder (optional)
1 teaspoon garlic powder (optional)
2 cups chickpea flour
2 cups water
In cast iron (preferably) skillet, sauté onions in 2 tbsp olive oil with a generous amount of sea salt. Sauté onions until they are nice and soft and caramelized. Add chopped spinach and sauté to wilt. It doesn't have to be fully cooked.
While the onions are sautéing whisk garbanzo bean flour with water, chili powder, garlic, and sea salt. Whisk until smooth and frothy. Be mindful to reduce all clumps.
Pour the chickpea mixture over the top of the onion and kale mixture. Do not stir. This is your frittata! It will get firm once it bakes. Heat on the stove for a few minutes, until a crust starts to form. Then gently move to the oven and bake at 450 for about 20-25 minutes or until the top forms a crust. Let set for 10 minutes before serving.
Garnish with a few handfuls of mixed herbs, chopped. I like dill and parsley. I garnished with a drizzle of olive oil, flaky sea salt, and herbs before serving. Serves 4-6 people.
Enjoy!
More in The Food