AT HOME WITH // Movement Co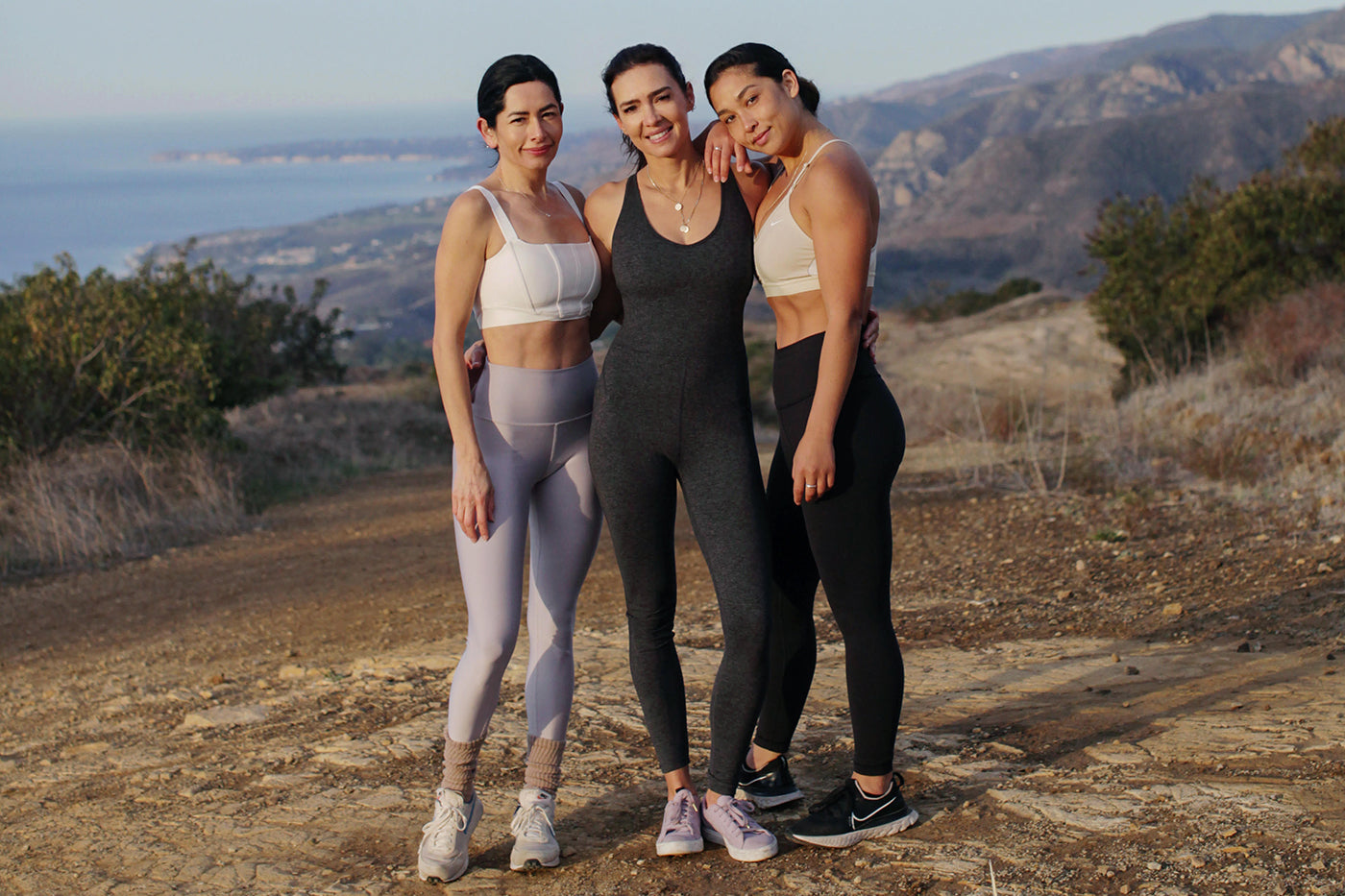 I've crossed paths with Tenaya, Michelle, and Miwa over the years- but it wasn't until recently that I was able to really connect with them through an event that we all did locally.
Understanding movement as a means to mental health is something that shifted dramatically for me after becoming a mother. For the first few years I felt like I was fine because I could still wear my pants, but I didn't realize how much I needed it for mental health. I finally understand that now.
I'm so inspired by how they have built community around movement, and I'm impressed with their dedication to the cause. The Movement Co. approach to fitness is straightforward and fun, but I can testify that it isn't "easy" by any means. You'll definitely feel it!
Movement Co. offers classes online and also in person at local Los Angeles parks, so wherever you are, you can take advantage of these truly awesome workouts.
Read what they have to say below.
Thank you all!
1. Your 3 word bio:
Michelle - Dreamer. Mother. Maker.
Tenaya - Intuitive. Leader. Mover.
Miwa - Resilient. Energetic. Creative.
2. Tell us briefly about your journey in founding Movement Co.?
Tenaya - Movement Co., originally called Thrive Project, was born at the height of the pandemic and when I was home on maternity leave. Michelle and I had recently shuttered our fitness studio and I wanted to find a way to keep the community alive (and moving)! It was honestly a really difficult process at times, one that required me to reimagine my career and learn new skills, as a lot of the work I did at our in-person studio didn't translate to online. I reached out to a long-time client and friend, Miwa, who shared my passion for movement and was excited to grow with this new company. We both were juggling busy schedules, but it felt good to be building something in the time that we had. Soon after, Michelle joined the team as our Community Director, and we rebranded to Movement Co. With the team in place, it feels like we're able to dream big and make this new venture one that truly aligns with our passion and vision.
Michelle - Timing is everything. As Tenaya mentioned, we were born during a challenging moment, but if I've learned anything during the last few years, it's that life is messy! I was so happy to be able to jump back in when I did. Being a mom with an entrepreneurial spirit during a pandemic is hard, but one thing I never questioned was that our community and mission was really meaningful, and this new team and time just felt right.
Miwa - They said it! We all have this passion for movement that encompasses so much more that traditional "fitness," it just made sense to join forces. The last few years have forced us all to redefine ourselves a bit and Movement Co. is our reinterpretation of the kind of space that we want to move in with our community!
3. As friends, business partners, and brand founders what does movement mean to you?
Michelle - Movement is everything... I rely on it to be my best self. The benefits are physical, emotional, and mental. It challenges us to continue learning and growing and has been our catalyst for connection to community and friends.
Tenaya - Movement is our medicine. It's given us partnership, friendship, wellness, and positivity... and been our true north during the pandemic. It's the reason we do what we do and why we are blessed to be able to do the "work" that we love.
Miwa - Movement is such a multifaceted concept for us. It's about growth and evolution- not just about working out. I think this bigger perspective on movement is why we are so drawn to it, because we are all fascinated and passionate about wellness as a holistic daily practice.
4. What do you think is the most misunderstood aspect of why staying in shape is important postpartum?
Tenaya - My own relationship to movement changed so much after becoming a mom. What started as something I did for physical fitness, has completely changed into mental fitness.
Michelle - I know a lot of women feel the pressure to "get back in shape" postpartum, but what's not reflected back to them is the attention to maternal mental health and its correlation to the physical healing components of exercise and movement. They become so closely tied to one another once you become a mother. It's incredibly isolating to be with a new baby, then couple that with all the challenges faced during pregnancy, birth, and the healing time afterwards. Most mothers experience a variety of symptoms that can include pelvic floor dysfunction, physical pain, complications with sexual intimacy, and big feelings about self that come along with it - not to mention exhaustion and a baby to care for. Mothers deserve the time postpartum to reconnect with their body as well as the permission to prioritize their healing physically, mentally, emotionally - all at once. Movement and exercise are just one part of that equation. Being a mother is challenging, so it becomes more important than ever to take care of yourself so you can sustain and enjoy life. Movement and exercise are what healed me from my own postpartum blues when I first became a mother, and it became so much more meaningful to me as a non-negotiable human need. I feel so grateful to have a practice.
5. How does your approach differ from other fitness routines and programs?
Miwa - I really love how realistic we are. We aren't chasing perfection and we don't promote working out as a punishment or consequence of indulging. It's about changing the narrative of working out. We play fun music, and we love feeling alive and moving our muscles and we want to share all of that with our community. Life is complicated enough, we try to keep it simple in our fitness routines.
6. How do you feel like becoming a parent shifted your approach to fitness?
Michelle - I have learned to be a lot more flexible but still do set weekly goals for myself. I used to be all or nothing, if I couldn't make an hour class, I wouldn't work out that day. Now I'll do 20-30 minutes and take a walk with my kids. Cumulatively, it adds up so it's important to move when you can, however you can!
Tenaya - I look at my body with a lot more love and respect after having carried and birthed two humans. I'm in awe of this body and I want to take care of it now more than ever. I know movement is imperative for both my mental and physical well-being, so I prioritize getting my workouts in, no matter what. Sure, there are days where I'm on my mat with my two kids and maybe even the dog joins us, but I get it in! I also hike a lot more now that I have a family. It's a great activity for everyone, and while it might not be my favorite thing to do, I appreciate being able to combine movement with some quality time with my crew.
7. You guys seem to have shifted seamlessly from an entirely in person approach to digital. What has been the most positive aspect of this transition?
Miwa - The virtual world is super empowering because there are no excuses. It really puts the ball in your court to take your fitness and health into your own hands. I love seeing people take more agency in their wellness routines.
Michelle - I love how we all did it together. There was a change, the world responded, and as Miwa said, people took agency and were open to the shift. It was something I felt bonded us to our growing community even more. We had former clients now living in different parts of the world able to join us again. It was pretty amazing to reconnect like that.
8. What are some of the rituals and routines that enable you to work at your highest level?
Michelle - Movement of course, but also sleep!
Tenaya - Movement. Meditation. Gratitude.
Miwa - Movement, of course, and really trying to listen to my body when making decisions.
9. What is your philosophy when it comes to skincare and/or self-care?
Michelle - Certain things are not self-care but basic human needs… treat yourself!
Tenaya - I'm afraid I'm a bit lazy in this department. My philosophy is probably "easy and natural" :)
Miwa - Taking time to really appreciate the little things- even washing your face can feel like an indulgence if you let it!
10. Your top 3 life essentials. (Products, rituals, music, foods - anything!)
Michelle - getting outside, sauna + cold plunge, my morning smoothies!
Tenaya - Bachata music. Beach plunges. Can I say margaritas???
Miwa - Walking, showers/baths, Afro Music/Hip Hop/Techno
11. Where do people find you and get started with your program?
Michelle/ Tenaya/Miwa - We have tons of online classes that can be found at movementco.live and are teaching IRL twice a week for our LA community at a gorgeous park on the Westside. We also do pop-ups, community events, and IG Lives… follow us @movement_co_ to keep in touch!
More in The Interviews