AT HOME WITH // Laura Laurens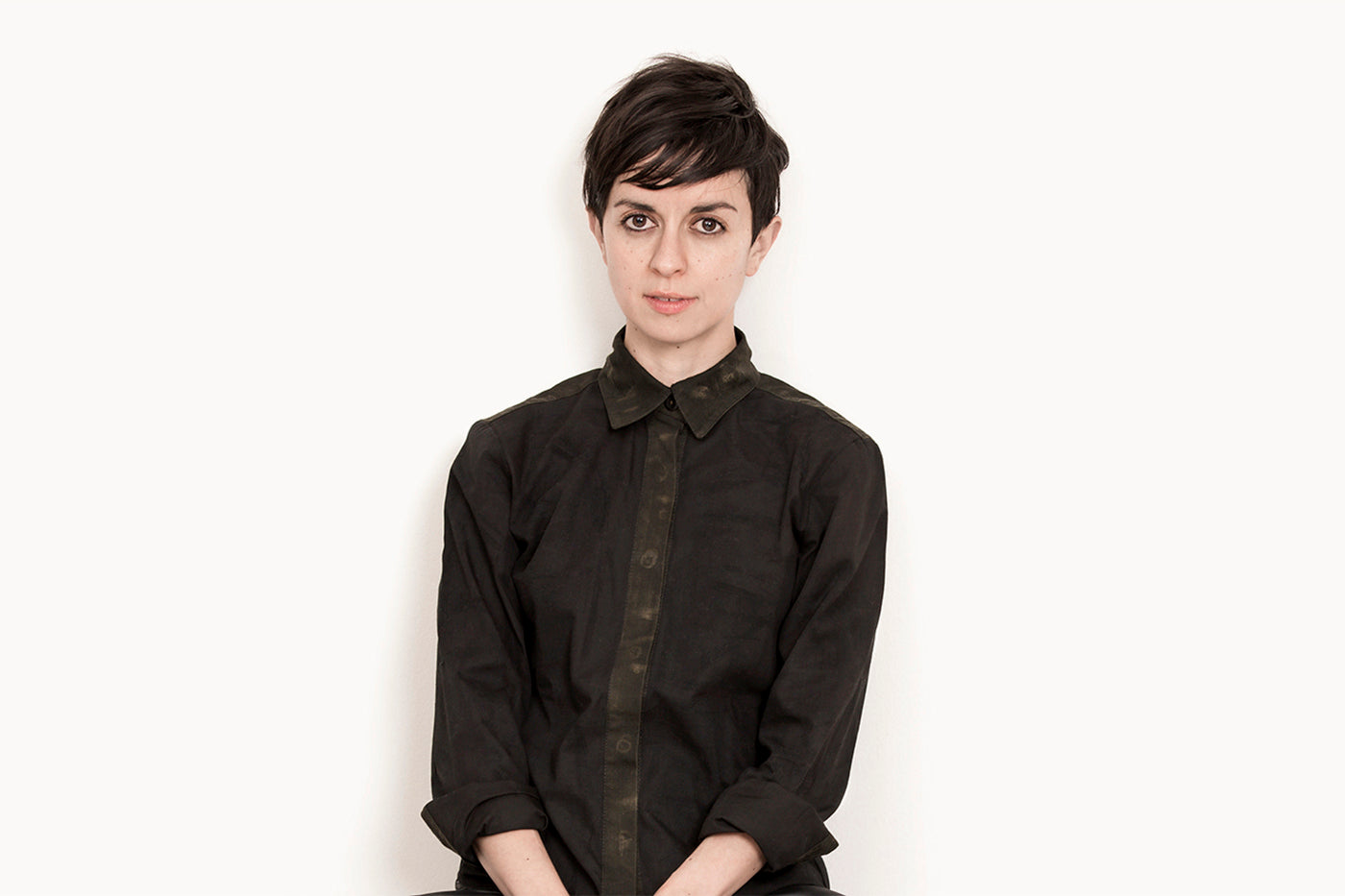 Laura Laurens is a progressive fashion designer based in Bogotá, Colombia. I learned about her work from a project that my husband worked on, and the pieces I have of hers have been absolute wardrobe staples. Her designs are both timeless and unique with a touch of raw edge.
She has used her platform as a designer to collaborate with indigenous trans communities and incorporate their crafts into her work, creating a unique synergy to her designs. She works as an orchestrator of creativity.
This is hands down one of my favorite interviews. I learned so much just reading it and feel so inspired. Not only is she a brilliant designer, her way with words is unique and eye opening.
1 - Your 3 word bio:
Movement + Creativity + Nature
2 - You are known for a uniquely raw approach to fashion design. I love the sort of high-low element to your work. Can you tell us a little about your creative process?
For me creativity is about transforming what you have on the table (ordinary stuff) into something else (something EXTRA-ordinary). In my process you have to create a dialogue between two supposed opposites. Textiles are a place to start these conversations. I'm into the in between spaces, those spaces that are not black or white, feminine or masculine, those spaces where high and low blend.
3 - Fashion is an inherently wasteful industry, and I feel like that aspect keeps getting more exposure. You seem to have found a way to do it better. What is your process to designing in a more sustainable fashion?
I think more responsible and honest processes these days are a must. Beauty is within. The inside process is just as important as the finished product. We live in an unhealthy system, and as you said, fashion is an inherently wasteful industry. As with any process of construction, destruction is part of the cycle - but there are ways to make it more friendly and reduce the impact. It's not only about the what, but the how. In our case we have several pillars.
We strive to:
- Reduce water waste
- Use eco-dyeing process
- We use dead stock military fabrics, vegan leather, and textiles like linen which has low impact production compared to others
- Zero waste patterning
- Social responsibility with minority groups from Colombia, such as ex-combatants of the civil war and transgender indigenous communities.
4 - Many people feel like supporting sustainable fashion is cost prohibitive. While the garments are often more expensive, I have personally found that I spend much less on clothes than I used to when I would bulk buy at fast fashion places. The pieces I have of yours I wear over and over. What would your thoughts be for consumers and why they should support sustainable fashion?
Because it's not about quantity. Most of the time less is more, even though it is more expensive because you assure a fair payment to the whole supply chain. The more conscious you are, the more you can play with what you have and dignify the value of things.
We are molecules in movement with a frame called a body or skin… and as they say, "you are what you eat", you are also what you wear. We are wearing the four elements every day! The more conscious you are about this, the less compulsive you become. So as a designer, you not only design clothes, it is your responsibility to design your surroundings and make more conscious and transparent decisions. As a designer, you make customers a part of all of this.
5 - You work with the Emberas indigenous trans communities of Colombia. I was so interested about this aspect of your art. What does your work with them look like? And is Colombia open to accepting the LGBTQ communities?
I started my approach with the trans indigenous community as a friendship and I realized how talented they were with their ancestral crafts and knowledge, so I really wanted to "use" fashion as a platform to let their voice be heard. Not me being the one who gave them the voice (and keep replicating colonialist patterns of the privilege one representing the "others").  I wanted them to speak and be in the front and centre of the creative projects, so we started this adventure co-creating together as a path with many train stations. We traveled together to London and made an exhibition in the Somerset House. Then we made a show called: "Millones de Maneras" (Millions of Ways) and we keep doing new projects. Colombia is open to accepting the LGTB community but they were not aware of the LGTB indigenous community, because it is a minority group within a minority group. So, I think the importance of the artistic Lab Team we have with the community is that we have used everyone's skills to build something together. It's about being participative rather than acquisitive. It's about how to participate creatively in the construction of a system that is no longer worried about belonging, but more on building - because it's time to reflect that this world is not about the others, it is about all of us.
6 - I know that you are interested in vegan food. We can't talk about sustainability unless we talk about food! What is your philosophy when it comes to food?
I've been vegetarian for more than 15 years and I love vegan food! I go vegan from one time to another depending where I am and what I can find. My philosophy with food is the same with life in general - every decision that I make is to liberate myself, not constrain myself. Because I love animals sooo much, since I was a kid, I have always found it natural not to eat them. If one day I want to eat animals I will, and I will be really thankful with him/her to nourish me, and I will honor the power as in a shamanic ritual. The thing with food is that people "normalized" everything that they eat and don't think about where it comes from - it's origin. The more conscious we are, the more grateful and generous we will be with the soil, the leaves, life in general. I really love to think that what we eat is landscape on a physical and emotional level : )
7 - What is your philosophy when it comes to beauty rituals / skincare or self-care?
Keep it simple and hear your own mechanism. I always have thought that traditional education teaches us to believe in books and what others say, but rarely in what you believe and what you explore… Skin is the deepest, so if you listen to her, she will whisper what you need and then you can go for the product that your body or your spirit needs!
8 - What are some of the rituals and routines you do to cultivate creativity and inspiration?
I used to dance ballet when I was little, so I practice stretching that I combine with yoga asanas and some time to meditate. I drink some water with lemon or cider vinegar and then I have a walk with my dog: Ofelia. Some music with the volume up while I organize the house. Organizing my outside space helps me to organize the inside. I'm kind of messy in my thoughts so I need really tidy spaces to compensate. If it's not too late I love to read the I-Ching and walk to my studio. I may stop to have tea or coffee and just see people …
9 - Your top beauty essentials (products, rituals, or foods)?
My skin is pretty dry, so I wash my face with a Parsley Seed Cleansing Oil from Aesop. For the eyes I use a cream called Pai Skincare Echium Argan Gentle Eye Cream. I combine the cream of the face with an oil from a local brand called Loto del Sur - the oil is an elixir of roses, CBD, cacay and carrot. I like the Jade Roller as part of my routine too. I have sensitive skin and a lot of freckles and beauty marks. I like them, but I have to be super careful with the sun. I use a sunscreen that protects me a lot called Actinica Lotion. I don't use makeup, but once in a while I put red on my lips, or I draw a black line on my eyes. I choose eyes or lips. Not both. I'm crazy about artichokes, french fries and fruits in general. I love skirts or some baggy pants with a black long-sleeved shirt and a band t-shirt (I have a collection) to dress on my daily basis. Maybe because I work with clothes all day, I like to dress as an alternative teenager in the 90´s… it's my way to balance and ground myself.
10 - How has spending more time at home (I'm assuming because of COVID) been for you, and how is that affecting your work?  
In a way, we were working in a way that COVID didn't affect the brand in the production process. We were already working to empower local communities, having home or studio office once a week, using and re-using local supplies, etc.
Since the foundation of the brand, we've had many of the ideals that people are talking about - re-inventing, re-creating. We didn't have to do that in that sense, because they have been there since the beginning. It gave us more press, because now people see and say, "Oh, they have been doing this or that!"
Of course, commercially, it has affected us because we used to present our two main collections in Paris Fashion Week, and we were just able to present the FW20 collection in February/March - but some orders were cancelled for obvious reasons.
During the first months that we were completely under the lockdown we had to close the retail shops in Bogotá. Fortunately, we already had the shop online, so we activated it and little by little we have been able to keep moving!
11 - Anything new on the horizon you'd like to tell us about?
We are designing our first men's capsule collection with two friends! One is an artist named Nicolás Paris and the other is a writer named Felipe Restrepo. It's a collaboration. I always have this idea that garments are portable architecture. So, based on that idea we are working from the multidisciplinary corners. Some of the labels will say: "I'm complete, but not finished." - garments that customers can keep building upon.
More in The Interviews