SUSTAINABLE(R) PACKAGING // Our newest renew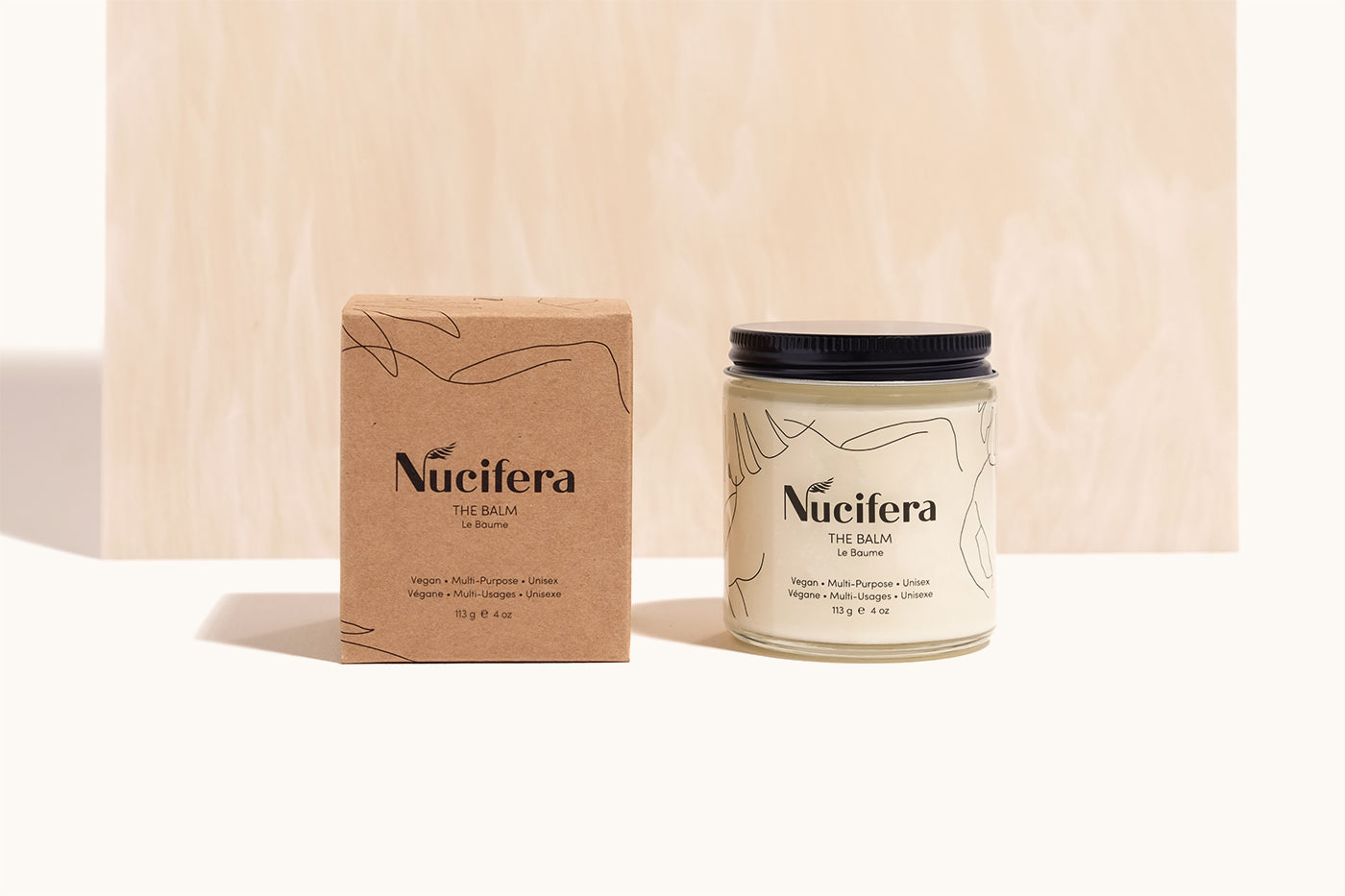 When it comes to the subject of sustainability, we all know the packaging industry is far from perfect. Packaging waste (especially plastic) is one of the biggest offenders when it comes to its impact on the health of our planet.
Truthfully, the only real sustainable packaging is no packaging. While a package free world is the ultimate goal, it's simply not obtainable in the near term. So many changes need to happen in order for us to get there. From packaging design to supply chain issues to consumer behavior – it's going to be a process.
The good news is there are things everybody can start doing today to help influence change. Supporting sustainable brands is one of those things. Reusing packaging (even plastic) is another. Proper disposal habits are also very important.
In the coming weeks, you're going to see a more transparent and more sustainable look for Nucifera begin to emerge. In an effort to further improve upon our offerings and our impact, we've simplified our packaging even further.
Over the last few months, we've been asking ourselves a lot of questions, followed by a lot of exploration. We're excited about where we've arrived, and we hope you are too. Here are some Q&A about some of the choices we made and why we made them…
Why are you evolving your packaging?
We feel our approach to packaging shouldn't be any different than our approach to making skincare. We're always looking to improve upon what we're doing. From the ingredients we use to the materials we're packaged in – we want to make the most considered products we can.
Why did your labels change?
Knowing that our customers will most likely recycle or reuse our jars and bottles caused us to take a closer look at our labels.  Whether reusing or recycling the label is removed – so we wanted to be sure that once discarded they weren't going to contribute to landfill. That said, our labels are printed on a plant-based biodegradable material called PLA. Further reducing our waste, we also cut down on the inks we're using. Our labels will now only be printed with a single plant-based color.
Why didn't you print directly on your containers?
The main reason we use labels and don't print directly on our jars and bottles is that we want our customers to have the option of reusing them. If a container has branding permanently printed on it, we think it's less likely to be reused for other purposes. With a label, our customers can simply peel it off and have a nice clean container to reuse however they want.
Why did you choose only glass containers?
We've chosen glass exclusively because glass is 100% recyclable and can be done so endlessly without loss in quality or purity. Something very few other packaging materials can claim. We also like glass for the purpose of reuse.
Why did you choose metal lids?
We've chosen metal lids exclusively because metal (tinplate) is 95% recyclable and can be recycled many times without any loss in its protective properties. It also has low toxicity and is corrosion resistant. The metal lids we use are FDA approved and contain no heavy metals. We also like metal for the purpose of reuse.
Why did you choose paper tubes?
When we launched The Stick, we searched the planet for sustainable tube packaging and the only thing we kept coming to back to was paper tubes. We knew the likelihood of reuse for these was low, so we wanted something that would disappear at the end of its life. Our paper tubes are 100% plastic-free, biodegradable, recyclable (and yes, even reusable, if you want to make a bird feeder with your 3-year-old).
Why did you choose paper boxes?
When we first launched Nucifera we opted for no boxes to be more sustainable. But we soon discovered that our waste from shipping supplies was actually higher than if we had boxes. Our boxes are constructed with Kraft Pak which is 100% recyclable, compostable and certified under the Sustainable Forestry Initiative and Forest Stewardship Council.
Why did you choose PP pumps and sprayers?
We'll be the first to say that these are at the top of our list to improve upon and we are continually searching for better options. Our existing fine mist sprayers and treatment pumps are made with PP (polypropylene) which is becoming more and more accepted by curbside recycling programs. But it is still plastic, and unfortunately, we haven't been able to find anyone that makes them from more responsible materials – yet!
The more consumers demand sustainable products, the more brands will make sustainable products, the more manufacturers will use sustainable materials, the more the planet will benefit. It's that simple.
We are proud to bring you our newest evolution of Nucifera. Please let us know your thoughts!
PS – if you receive our current line of packaging please don't worry! This is a gradual shift. What's inside is still the same. All Nucifera offerings are tested, stable and hold their integrity for at least 12 months.
More in The Journal