AT HOME WITH // Valentina Belova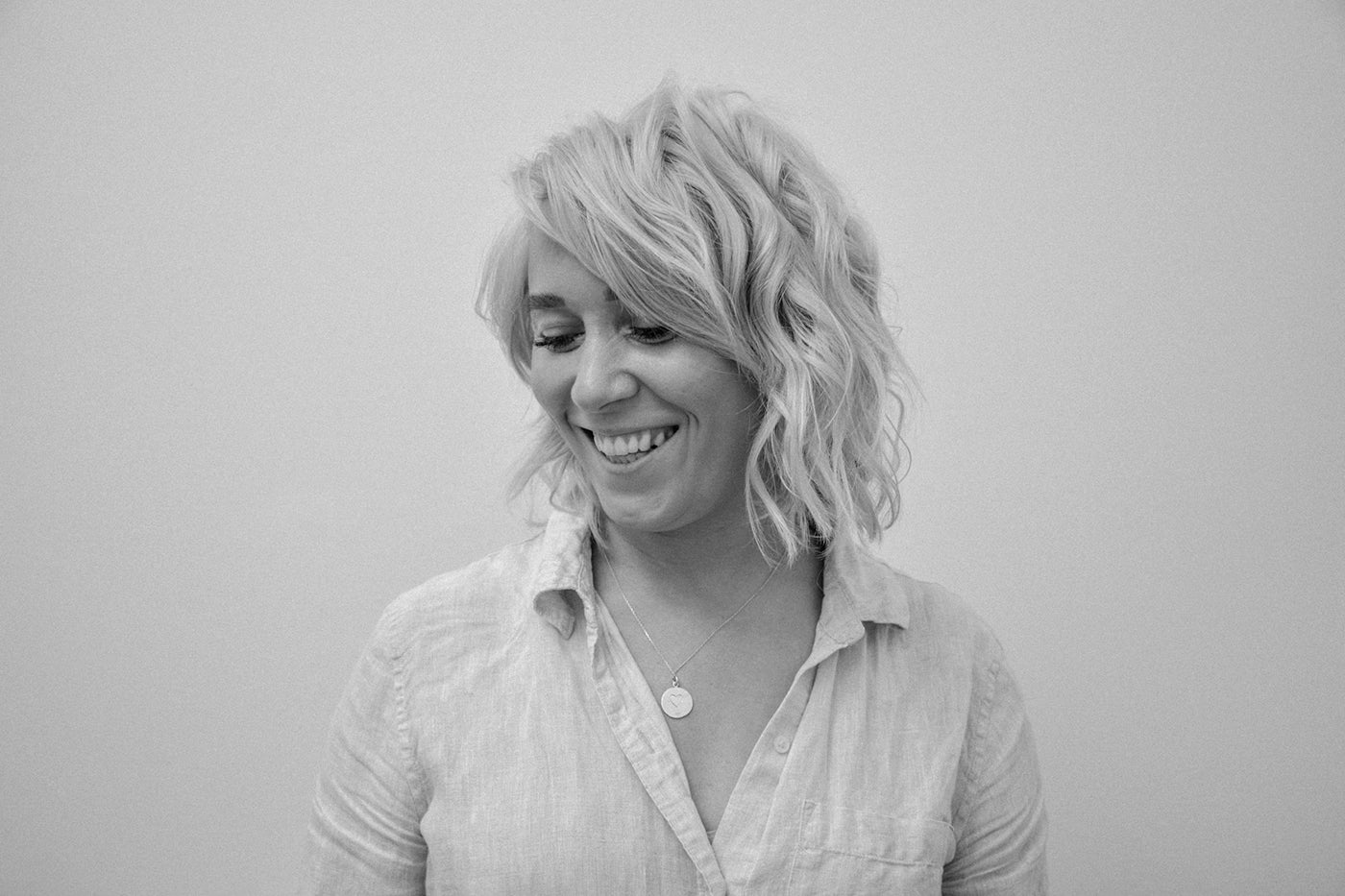 I met Valentina about 4 years ago by way of a mutual friend. She said her facials were a must and that she was one of the best microcurrent specialists in LA. Microcurrent? What's that? I had heard a little bit about the technology – but barely. I was newly postpartum, and had honestly not figured out how to take much time for myself. My skin definitely looked like I hadn't been sleeping, had just had a baby, and was breastfeeding – hello rapid aging (but worth it)! I connected with her and asked if I could bring my new sidekick along, and she said yes (so nice)! Our sessions turned into some of the best facials I've ever had. The difference was almost immediate, and I became a firm believer in the power of microcurrent. 
I have since purchased an at home version that I use regularly. I will say that the at home versions are not the same as going to a specialist. Find your local Valentina. And if you're lucky enough to live in Bozeman, MT you can see her in person at her shop GLOVE Green Beauty. She also stocks an amazing selection of green beauty products. Not only is Valentina the best facialist I've ever been to, she is the most kind and inspiring person. Truly a gem of a human being!  
If you've ever been curious about microcurrent – this is your article. She answers it all. Thank you Valentina! 
1 - A brief bio:
Microcurrent expert, educator and clean beauty store founder and CEO.

2 - Tell us briefly how you started working microcurrent, and how it works?
I was a professional makeup artist (beauty, SPX artist), and fell in love with non-invasive natural skincare as a result of working on set with chemicals for special FX. I always loved touching faces, I just didn't know where it would lead too. A friend of mine told me about microcurrent and I wanted to learn everything. I was fascinated by it. It sounded too good to be true, so I decided to do a ton of research and find the best equipment out there. 
Microcurrent works on a cellular level, and benefits the whole body. It is the same kind of current your body produces on its own within each cell, which makes microcurrent one of the most non invasive, healing treatments. Microcurrent is able to penetrate through cell membranes (each cell membrane has ion channels that allow microcurrent to travel through the skin). It increases collagen and elastin production within your own body (the best kind that your body needs) and it decreases inflammation and helps to flush the toxins out.

3 - What are the benefits of using microcurrent? And what are some of the misconceptions?
The facial benefits are anti-aging – meaning it helps with sagging skin, elasticity loss, lines, wrinkles, acne, uneven skin tone, skin irritations, dehydrated skin, helps to depuff, and improves dark circles. It gives you the microcurrent glow!
Misconceptions may be that some people expect it to be a quick fix, but I haven't had that happen too often. I feel like people who seek microcurrent are very educated and experienced in the world of natural treatments and have done their homework. 

4 - What do you tell clients to expect is the difference between microcurrent and botox or filler?
Very different results. Microcurrent is not a quick fix for sure, but you can see results after the first treatment. Microcurrent is reeducating your muscles and rebuilding the collagen and elastin. It doesn't "freeze" your muscles. It will plump areas where you've lost the volume you want, but it will take a little time. Each person is very different, so some might see results after one to two sessions where other people will go through eight to twelve. The current will travel to the areas where the body needs it first, and this may vary from person to person. 

5 - What are the best at home microcurrent tools? And do you recommend clients use them? How often?
There are many tools and devices. I always encourage everyone to give your face love, even by using your hands. If you love tools and at home devices, NuFace would be the tool for you. Tera and her team are amazing at education and creating an at home device that is easy to use – and they always share tips and tricks. I absolutely love that.

6 - Are there any dangers with using microcurrent that you know of?
There are some contraindications – pacemaker and pregnancy. That said, I have a friend that didn't know she was pregnant (or didn't tell me) and she did microcurrent during the first three months of her pregnancy. She now has the happiest healthiest baby!

7 - You left Los Angeles for Bozeman, MT in the middle of the pandemic. We miss you! But tell us what you're up to out there and about your new space?
I know I miss you guys too! And I will definitely be coming to perform treatments once every few months. I opened a clean beauty store in historic downtown Bozeman, and brought all my favorite brands, helping people find what they really need to feel cared for. We're also building a treatment room so I can see clients and hold classes for people who want to learn about microcurrent and facial massage. Our store is the only beauty store here and people are very excited. We started to hold events educating people about skin, makeup, and hopefully will be doing more of those.

8 - What is your philosophy when it comes to skincare or self-care?

I don't think I have a philosophy. I know that I have an urge to help you connect and help you see your own beauty. I want people to feel our love. We really want to support our community, friends, small businesses, women in business and share the love that the brands we believe in bring to people. Sometimes all you need is knowing that someone truly cares. It's not about numbers. I truly care and miss touching people. I'll look for that chance everywhere I go, and give it everything I've got.

9 - I know that natural products are really important to you. Give us your top five natural skincare products that work well with a microcurrent routine.
Absolutely! I love products that are multi-taskers. It's so important especially when you don't have time or simply can't afford many products. Balms and oils are my everything. I Love Nucifera, Ayuna, May Lindstrom, Maya Chia, Saint Jane - omg I can keep going! But what is really special about the brands I love, is their integrity and the promises they keep. Efficacy is not all that matters. What also matters for me is what those brands hold as values. We are very lucky to have access to so much information and ingredients. We are all very educated now, so there is a lot of pressure on truly clean beauty brands – and I'm so amazed with how they keep their standards without sacrificing their core values.
10 - Give us the steps to the perfect at home facial.
It's simple! Get your favorite face balm or oil. I love The Balm from Nucifera because you can clean your face and use it as a moisturizer. I always use it to clean my clients face before a treatment. Then take your facial balms (mine are Nucifera, Blue Cocoon, SuperBlend or Furtuna) and massage your face so much so it's red! The only thing is don't pull your skin down – everything else is very intuitive. You will get the best glow ever and your dullness, dark circles, redness, and sagging will disappear!
More in The Interviews