ENERGY SOUP // A bowl of optimism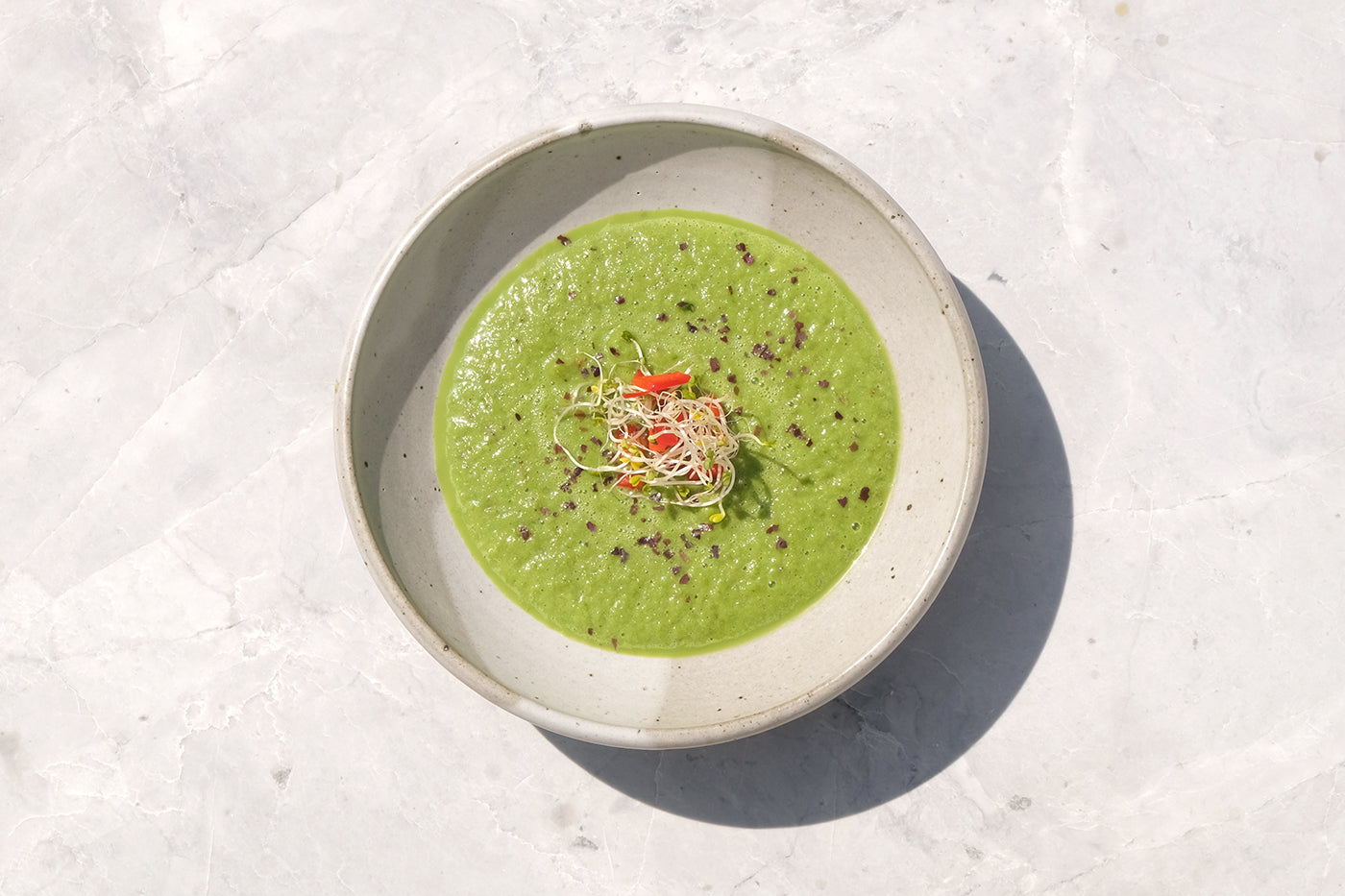 As many of you may know, Nucifera started with a love of plant based food and a mission to share the vibrant goodness. Skincare absolutely starts from within, and feeding ourselves (our cells) an abundance of antioxidants and nutrients is the only way to glow from within. Feeling good about yourself and your skin starts with feeling good about what you're putting in your body. Foods that make you feel more alive give you that glow we are all looking for. 
A few weeks ago, someone wrote us about the abundance of optimism that is found in the food we make. We were so flattered and truly couldn't have said it better ourselves. A healthy dose of optimism is probably something most of us need right now. 
Many of you may find that eating healthy is overwhelming or challenging. Recipes with unfamiliar ingredients can feel daunting. It really doesn't have to be that complicated! It can start with something as simple as grabbing an apple and a few nuts instead of a processed protein bar. Or eating a bowl full of grapes when you feel hungry or "snacky". So many unwanted food cravings come from being chronically dehydrated, and can be cured by simply drinking a big glass of water.
And what does moving away from salty, heavy dense food to hydrating life filled food do for your skin? Exactly what you would think it would! It makes your skin healthier and more vibrant.
One of our greatest teachers and inspirations when it comes to living foods is Dr. Ann Wigmore. Better known as the mother of wheatgrass, and a true pioneer in the living foods movement, Dr. Ann understood the importance of eating foods powered by the sun and abundant in full spectrum nutrients. Her "Energy Soup" is a classic that we've adapted many times. 
This soup contains a blended mixture of greens, sprouts, vegetables, a fermented probiotic beverage or water, and dulse seaweed. The soup is a complete meal, containing every nutrient in balance. It will leave you feeling satisfied and full of energy. It is one of our favorite lunches.
We've adapted it to a version that we particularly love, but feel free to adjust as needed. By blending instead of juicing you are maintaining a high fiber content that helps your body digest and utilize all of these good ingredients. 
Ann Wigmore's Energy Soup
1 1/2 cups Fermented Probiotic Beverage (Rejuvelac, or Water kefir) or 1 tablespoon Chickpea Miso + 1 1/2 cups water
1 teaspoon dulse flakes
1 to 2 apples, coarsely chopped
1 cup baby spinach leaves
1/4 to 1/2 cup sunflower sprouts*
1/4 to 1/2 cup buckwheat sprouts* (optional) 
1 avocado
*You can substitute the sprouts with what you have available - alfalfa and broccoli are typically easier to find. If you don't have access to sprouts, try using parsley and cilantro instead. The nutrient content does change a little, but it's still deeply nourishing and tasty. 
We could not recommend anything greater than trying this soup. It is a boost of vitality that helps the body transition from summer to fall, and keeps you feeling grounded. 
Enjoy! And if you make it please let us know!
More in The Food