THE OIL // Made for summer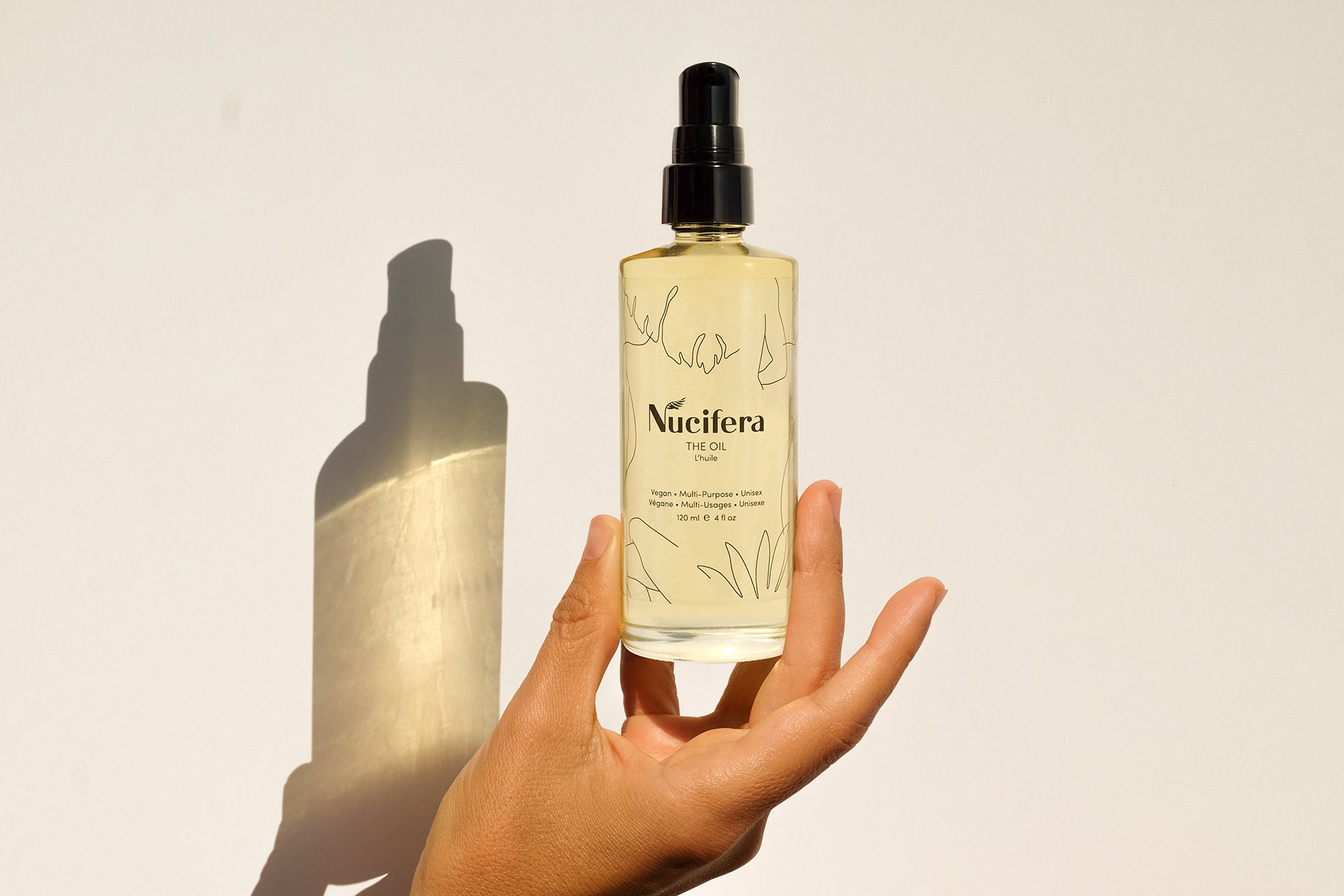 Last year one of our most anticipated product launches was The Oil. We can't tell you how many times people asked us to make a multi-purpose oil. Now The Oil is ready for its very first summer! Soft, silky, smooth and delicious for summer skin, it truly is a must-have for dresses, shorts, bathing suits and more. If you have yet to try it, now is a great time of year!
What are the oils in The Oil?
The Oil is liquid gold. Made from a base of all organic coconut oil, sweet almond oil, castor oil, borage oil, and moringa oil, it glides on perfectly. Each of these oils contains a naturally rich array of antioxidants, minerals, and a low level SPF - helping to tone your skin and reduce inflammation. When we think of oils and summer, many of us might think of the damaging effects of tanning oil – which is most certainly out of trend. Responsible sun exposure is a must but using oils that are high quality and deeply skin nutritive may help you adapt to sun exposure and improve your skins response.
Keeping hydrated is also an important part of not burning, and not burning is an important part of responsible sunning. While everyone's tolerance and skin tone are different – it is very important not to burn. Dry skin burns more easily (which makes total sense)! Most people are walking around with a chronically dry skin layer – and even those with oily skin can suffer from a superficial layer of dryness. Dry brushing before showering, using a gentle exfoliant, and applying a high quality oil like The Oil while damp, is a great way to prep your skin for summer.
And what about the fragrance?
We get asked all the time if The Oil has the same scent as The Balm. Yes, The Oil is made with our signature blend of essential oils – lavender, carrot seed, peppermint, grapefruit, patchouli, palo santo, frankincense and sandalwood. Each of these essential oils has uniquely beneficial properties that make for an experience that is both soothing and fortifying – helping you obtain your best skin possible. Sometimes fragrance (even essential oils) can cause sensitivity to sun exposure. For this reason, we highly dilute our essential oils to give the most benefits without the irritants.
When we think of skincare for the sun, we think holistically. There is a lot of conflicting information out there, and sun damage and skin cancers are most definitely something to be extremely cautious of. Especially if you have a family history.
Entering summer with healthy skin is important. Healthy skin comes from many different factors – feeding your skin properly (both internally and externally) should not be overlooked. Drinking juices that are rich in antioxidants – like green juices, and carrot juice can help boost your body's natural skin tone. All of these foods are high in Vitamin A which is probably the most well-known skin vitamin. The foods of the season, like watermelons, tomatoes, and cucumbers are all naturally hydrating and fortifying as well.
And of course, using products like The Oil make a big difference in maintaining healthy skin.
Here are our tips on how best to use The Oil for summer:
1 – Dry brush, exfoliate, hydrate. This goes without saying but shedding that layer of dead skin is really important. We dry brush before we bathe or shower and use a mild exfoliant like a scrub.
2 – Apply The Oil when damp. It's important to realize that oils are moisturizing not hydrating. What's the difference? Hydrating adds water. Oils or "moisturizers" help keep the water in. This is why you should apply your oils when your skin is still damp. This helps lock everything in and give you the maximum benefits.
3 – Take baths. Applying oils in the bath is my favorite way to stay hydrated. I will use The Oil all over my body while taking a bath, and when I get out, I barely need to add more.
4 – Use The Oil to shave. Want silky that silky summer skin and super smooth legs? All of the naturally anti-inflammatory qualities of The Oil make for an amazing shave oil. It will help prevent irritation and ingrown hairs.
5 – Apply before, after and during sun exposure. The great thing about The Oil is that it doesn't melt! Take it to the beach or the pool and apply religiously. This is not in place of sunscreen or sun protection, but it will help combat the drying effects of sun exposure.
6 – Use in place of makeup. Summer is the time to let your skin breath. Clean your skin with The Oil and apply a drop more to damp facial skin. You will literally have a sun-kissed glow.
7 – Add a drop of oil and a pinch of sand to your hand at the beach and give yourself the most amazing foot scrub. (This isn't a joke!)
8 – Apply underarms. You'd be surprised that if you start caring for your armpits like you care for the rest of your body, the need for deodorant goes down. Our essential oils contain naturally antibacterial properties that help combat odor. While The Oil certainly won't act as an antiperspirant, it will help you smell better.
9 – Use The Oil for a DIY exfoliant. 1 tablespoon of The Oil plus 1 tablespoon coconut sugar makes for an amazing scrub.
Use it, love it, let us know what you think and enjoy your summer!
More in The How To