BELLA BURRITO // A raw vegan spin on the classic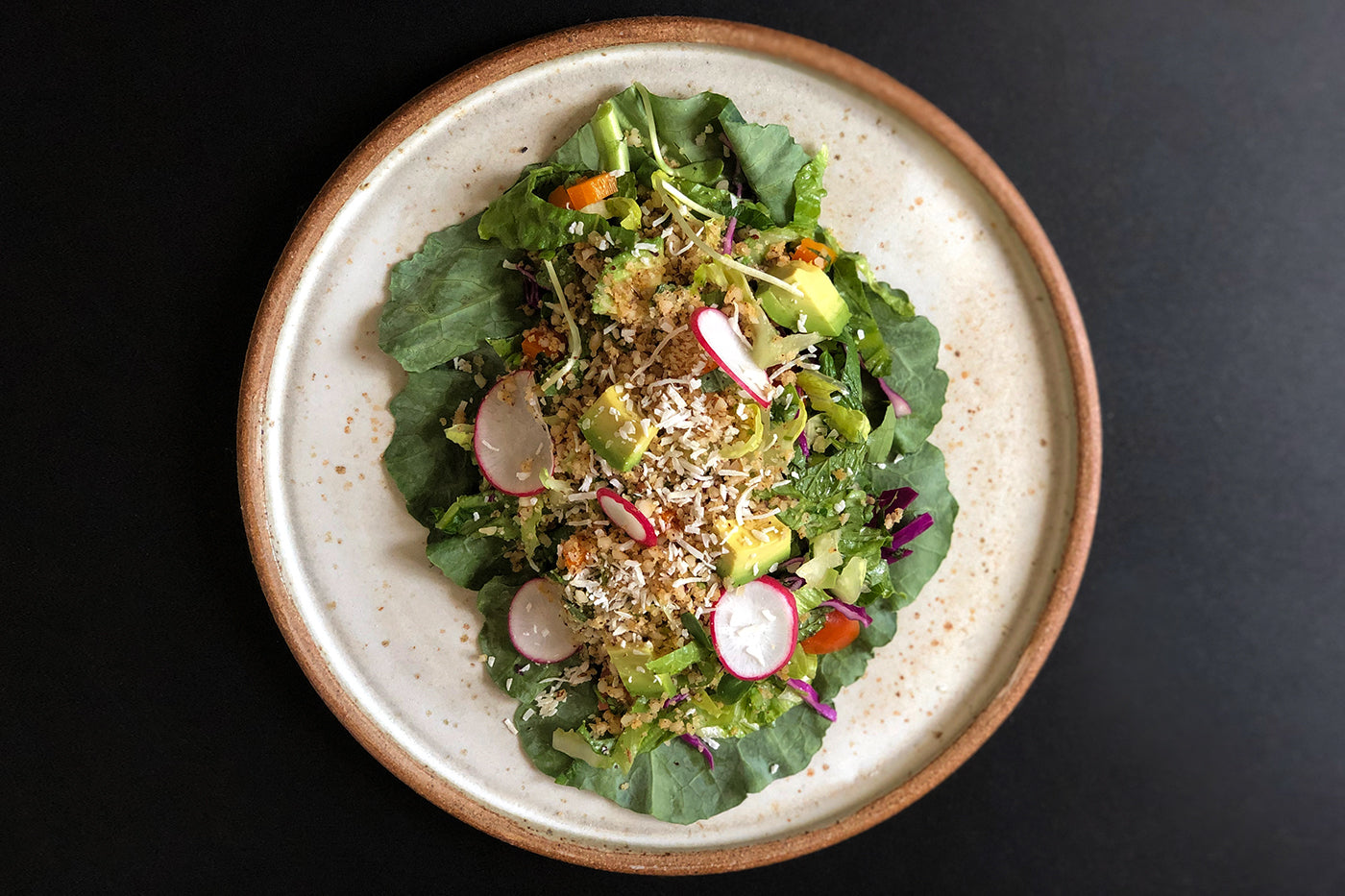 A burrito with brazil nut "chorizo"? You might raise a brow.
There are two things I must tell you about this. One – brazil nut "chorizo" is absolutely delicious. Two – don't turn your nose up to brazil nuts. My mother-in-law will feed them to the squirrels out of a nut mix (I think most people do) but there was one person who changed my perspective. I once met a woman over 60 with flawless skin. She was a big cigarette smoker and worked in a stressful industry (fashion). She credited her amazing skin to brazil nuts and vaseline. While I seriously doubt this was 100% true, I hung on to the brazil nuts part.
Brazil nuts are full of a unique range of healthy fatty acids, minerals, and notably high in selenium which may help reduce oxidative stress (aka good for your skin). 
We have nothing against traditional burritos. We love them (especially if it's a veggie one). It's hard to beat having all the good things wrapped up together. Easy to eat and enjoy. Absolutely delicious.
While you can certainly make a healthy burrito at home out of more traditional ingredients – you can also make a really awesome "non-traditional burrito" that wakes up your face and reminds you that spring is here.
We love the abundance and creativity that goes into making raw food dishes. Everything comes out feeling lighter, brighter, and uniquely flavorful. It's also a totally different way of thinking about food. You really can't go wrong with combining in season herbs, vegetables and spices. The varieties and flavor profiles are endless.
So many people think that raw food is full of nuts (both the food and the people)! This doesn't have to be true at all. You can make a "meat" or a sauce out of nuts and use sparingly. It doesn't have to be the main course. I like to think of it as adding texture and a little substance. Not only is this food delicious – your skin will love it. Raw food is so hydrating, and full of unadulterated vitamins, minerals, and antioxidants.
We're not asking anyone to adopt a fully raw diet – but don't leave the raw recipes behind. They are truly underrated.
Meet the Bella Burrito!
Wrap // 
Romaine, Napa Cabbage, or Collard Leaf
Filling //
1/4 cup diced cherry tomatoes
1/2 yellow, red, or green bell pepper- diced 
Approximately 2 cups greens of your choice, we used arugula 
1/2 cup (or so) of shredded cabbage 
1/4 of a red onion, thinly shaved (optional) 
Small handful of cilantro, torn or chopped 
Small handful of mint, torn or chopped 
1 avocado, diced
1/2 cup kalmata olives, chopped (optional) 
2 tbsp avocado or olive oil, (optional) 
2 tbsp lemon or lime juice 
1 tbsp diced jalapeño, (optional)
Toss all ingredients together. Salt to taste. 
Brazil Nut "Chorizo" //
1 cup brazil nuts 
1 tbsp nutritional yeast
1 clove of garlic 
1 tbsp tamari, or nama shoyu
2 tsp chili powder 
2 tsp cumin, powder or whole cumin is fine 
1 tsp smoked paprika (optional) 
Pulse all ingredients in food processor. Store in airtight container in the refrigerator for up to a week. 
Lay out two leaves for your wrap. Add filling. Top with brazil nut "chorizo". Garnish with herbs, sprouts, or edible flowers of your liking. Serve with a side of your favorite fermented hot sauce.
Enjoy!
More in The Food