MOCK CHICKEN SALAD // A vegan curious recipe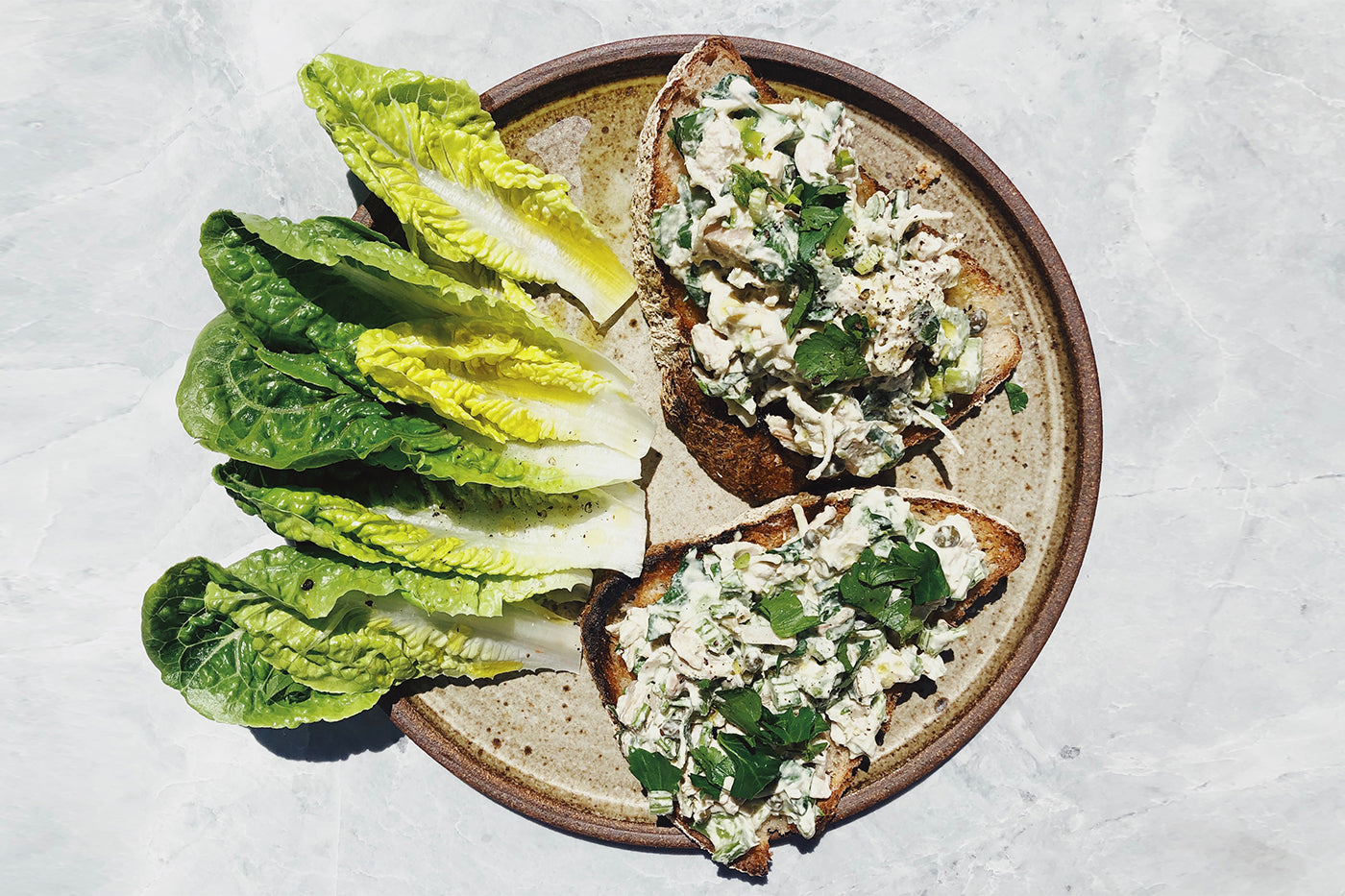 For us, it is all about plant-based. Eating and living lower on the food chain makes more sense every day. Spring to summer is the perfect time to give more of these dishes a try. Many people are becoming "vegan curious", and it's now more socially acceptable than ever to look at things with an open mind. We're all for people deciding to become hardcore vegans, but that's not what is happening. We believe it is better if more people eat a little more plant-based, rather than less people going all in.
My very personal reason for preferring to eat this way, is that along with doing right by the animals, and the environment, you start to notice a difference in yourself, and the way you look at the world. If you really think about eating animals, it requires you to cultivate an empathy that I'm less and less sure people are born with. People say they love animals all the time, but mostly we don't treat them that way. Tuning out what we are eating requires a level of cognitive dissonance that we are trained to have from birth.
My goal has always been to inspire people to eat this way, without feeling like they are missing out. This mock chicken salad does just that. We used jackfruit, which is picked unripe and when canned is not sweet at all. (Don't be confused!) While jackfruit isn't exceptionally high in protein, it is rich in fiber, and vitamins and minerals that are all great for your skin and feel good to eat. 
You could also use chickpeas, tofu, or tempeh for a higher protein option. 
These are beauty foods! Lighter, brighter, and easier to eat.  
We make this recipe at home weekly. 
MOCK CHICKEN SALAD (with jackfruit)
1 can jackfruit, rinse and drain. Sautéed to remove water.
Sauté jackfruit with 1 clove of garlic to remove water. You don't need any oil for this. It is just to dry the jackfruit out. 
1 cup chopped celery
2 tablespoons Dijon Mustard (I love Darkhorse Organic) 
1-2 tablespoons apple cider vinegar
1 cup cashew mayo or your favorite veganaise (Recipe Below)
CASHEW MAYO
1 cup cashews, blended with 1/4 cup water, 1 tablespoon rice vinegar, 1 tablespoon lemon juice (or just use lemon juice), 1 tablespoon white miso, and 1 clove of garlic. 
Blend until smooth. 
Mix all ingredients together, and salt and pepper to taste.

Serve on your favorite sandwich bread, or with lettuce cups as pictured. 
Enjoy! 
More in The Food