VEGAN WHITE MISO RAMEN // Immunity in a bowl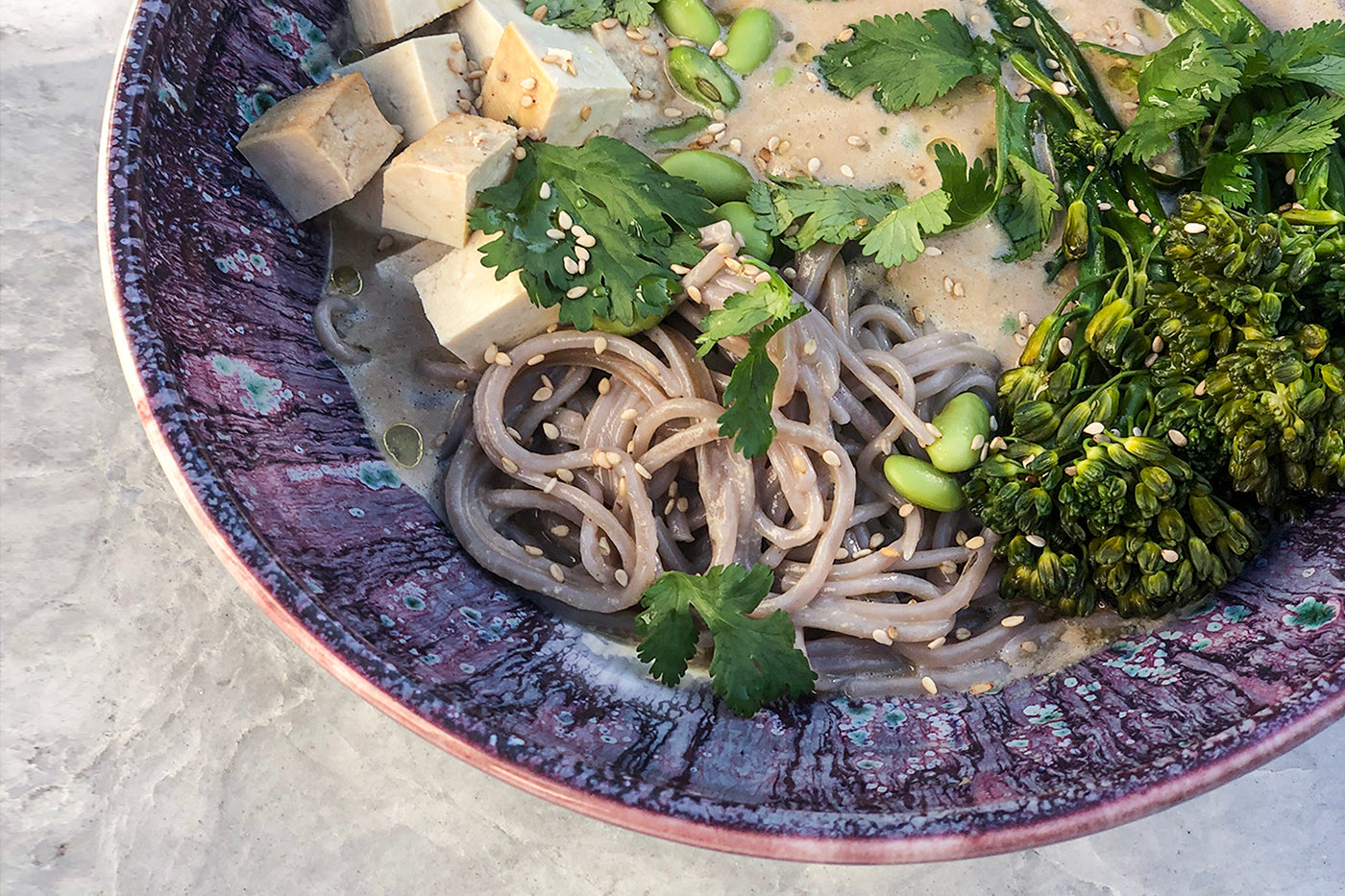 "A good broth will resurrect the dead" – South American Proverb
A good broth is a food unlike anything else. There is something so incredibly healing and soul soothing that comes with it. I'm always surprised by how satisfied I feel when I eat it. It is the epitome of comfort food. With a shift in seasons, and the call for coziness- it is something that I crave this time of year.
The health benefits of high quality broths are also quite remarkable. Whether they be vegan, or a bone broth version- you are able to pack in a wide variety of vitamins and minerals into an easily digestible and enjoyable liquid that boosts immunity while curbing hunger and making you feel so good. Mushrooms, seaweeds, ginger, garlic, spices and herbs all make their way into some of the best broths- and this one is no different. It also happens to be vegan.
It was a visit to the farmers market about a month ago that had me salivating over ramen, and while the noodles are great- the point of ramen is definitely the broth. This was a vegan version with truffle oil, and it was one of the best things I've had all year (maybe ever). Ramen isn't something that I grew up eating in any form, but my perception of it was something in a dried package. I know many people feel this way. The staple food of college students. Moving to Los Angeles for me was an opportunity to be exposed to the higher quality versions, and to truly appreciate what an incredibly delicious food it is. I feel lucky to have that access.
Per usual I set out to make my own version to share with you in an attempt to replicate this treat. My goal was to fill the broth with as much nutrition as possible- dried shiitakes, reishi, white miso, ginger and garlic all enhance the immune boosting qualities along with mineral and macronutrient benefit. The truffle oil is a bit of a twist, and it isn't necessary- but it really does elevate the experience. Feel free to use any vegetables that you have on hand. Once you make the broth the rest is up for interpretation. I promise you won't be disappointed!
White Miso Broth //
1/2 dried shiitake mushrooms, soaked in 1/2 cup water for 10 minutes
1/3 cup white miso (I used chickpea)
1/4 cup tahini
2 tbsp tamari
2 cloves garlic
2 inch chunk of ginger
1 white onion, chopped
2 teaspoons reishi powder (optional)
4 cups nut milk (I used homemade cashew)
1-2 cups water to thin broth as preferred
Pinch of sea salt
Blend mushrooms with soaking liquid, miso, tahini, tamari, garlic, ginger, and white onion until smooth. Add reishi powder. Blend until smooth.
In a large saucepan, heat the blended paste above. The flavor will be very concentrated, don't worry. Slowly stir and add the nut milk. You don't want to boil this mixture- because boiling miso removes some of the nutrition. Taste as you add the nut milk. Add water to thin the broth as preferred. Heat thoroughly and keep warm while you prepare the remaining ingredients.
Noodles and Condiments //
1 package ramen noodles, or buckwheat udon
1 bunch, broccolini or asparagus, steamed
1 cup edamame, steamed
1 package extra firm tofu, steamed
Prepare the noodles per package instructions. Steam vegetables along with edamame and tofu. These items can be lightly steamed together.
Garnish //
Sesame Seeds
Cilantro
Truffle Oil
Plate by filling a bowl with broth. Then add noodles, vegetables, and tofu. Garnish with cilantro, sesame seeds and truffle oil. This makes approximately 4 servings of broth. If you don't eat it all in one serving, the broth lasts in the refrigerator for 4-5 days as long as you don't add the noodles.
Enjoy and please let us know if you end up trying this recipe!
More in The Food